Omnichannel platform for all communication activities
Powerful tool to engage with customers
Optima provides a combined interface for unified operations of customer services, marketing, sales, and management processes. The platform allows marketers to send personalized offers through several channels (email, push notification, phone, SMS) within the framework of individually created campaigns.
The platform is available for on-premises or cloud operation to run Optima on your company environment in your selected cloud service. Local installation helps your business easily integrate with existing CRM, marketing, logistics or other communication channels.
On-premises run provides maximum security and privacy to store clients' personal information in one place without third party software. Some enterprises have strict regulatory requirements for data storage, installing Optima on-premises aligns with these policies.
Optima also enables your business to reduce communication expenses by integrating existing marketing software into one platform.
Focus on customer experience
A powerful CRM and marketing platform that provides transparent management of sales, marketing and call centre tasks, so you can focus on your customers!
Auto-generate reports and Insights
Deep dive into marketing metrics and KPIs to measure the effectiveness of your communication campaign aligned with your goals.
Automate and grow your business
Eliminate the unnecessary time spent on repetitive marketing tasks by automating them with Optima.
CRM
Keep track of your customers, manage your leads smoothly
Import your contacts from different databases and make sure you never miss anyone from the list. Automated contact management makes sure you interact with diverse groups of customers.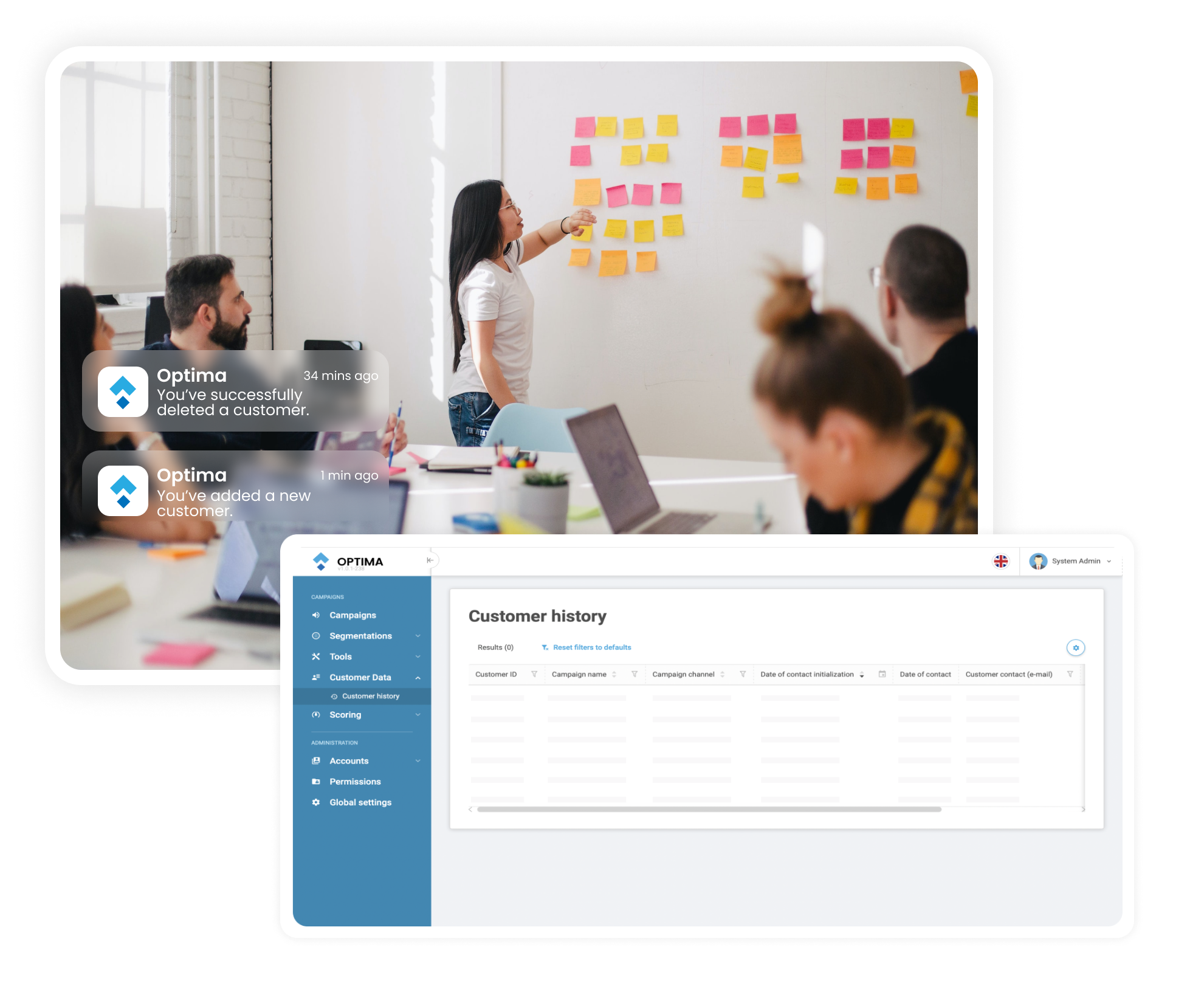 Email marketing
Send targeted messages and increase customer satisfaction
Optima enables unlimited interactions with your customers. Send triggered emails, autoreplies or schedule emails for a specific date. Communicate promotions exactly for the right target segment.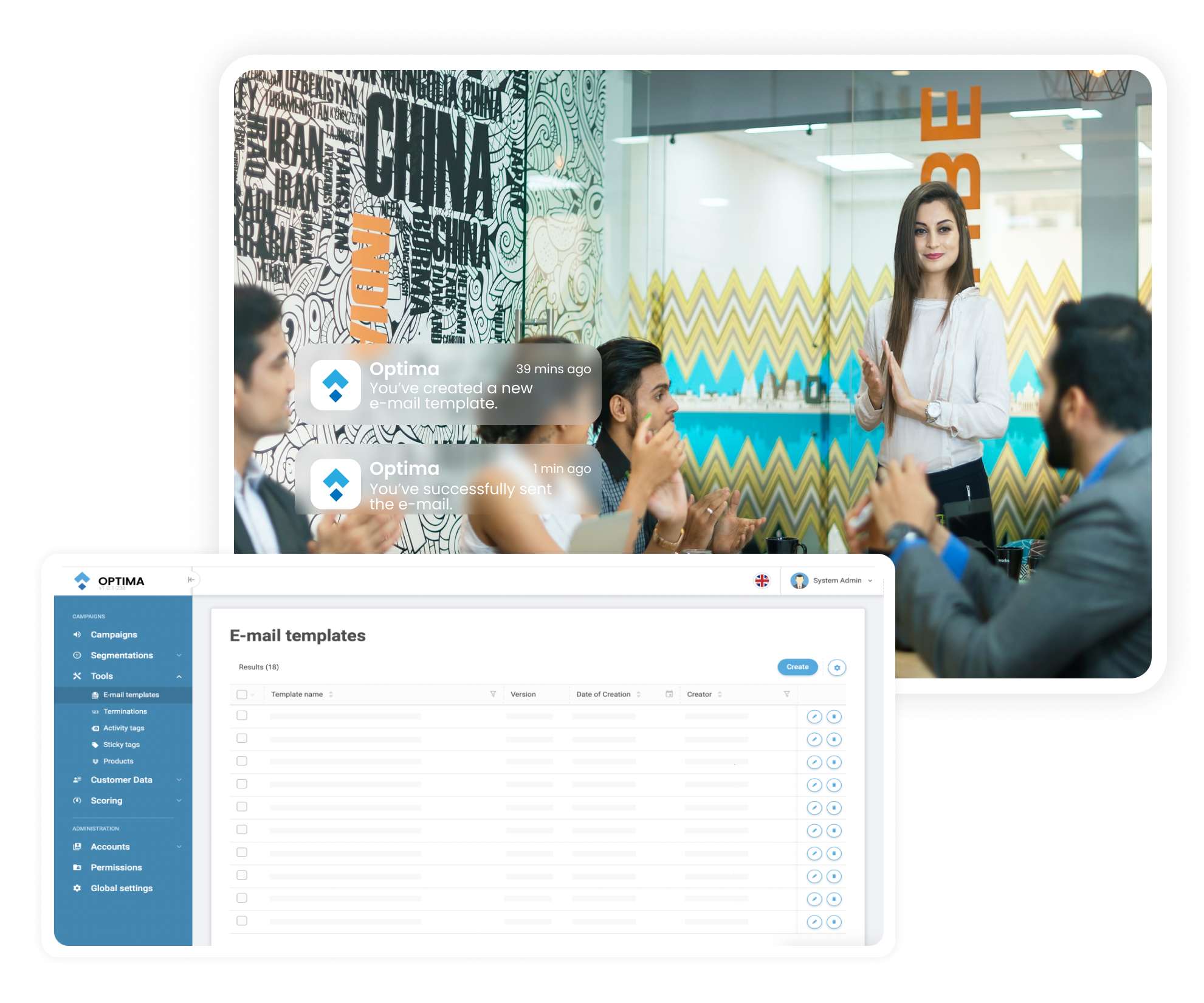 Service and support
Show your customers what a great service center is
Connect with your customers on different channels and provide personalized customer service for long-time brand loyalty. Our integrated client service tools prevent your company from negative customer experiences.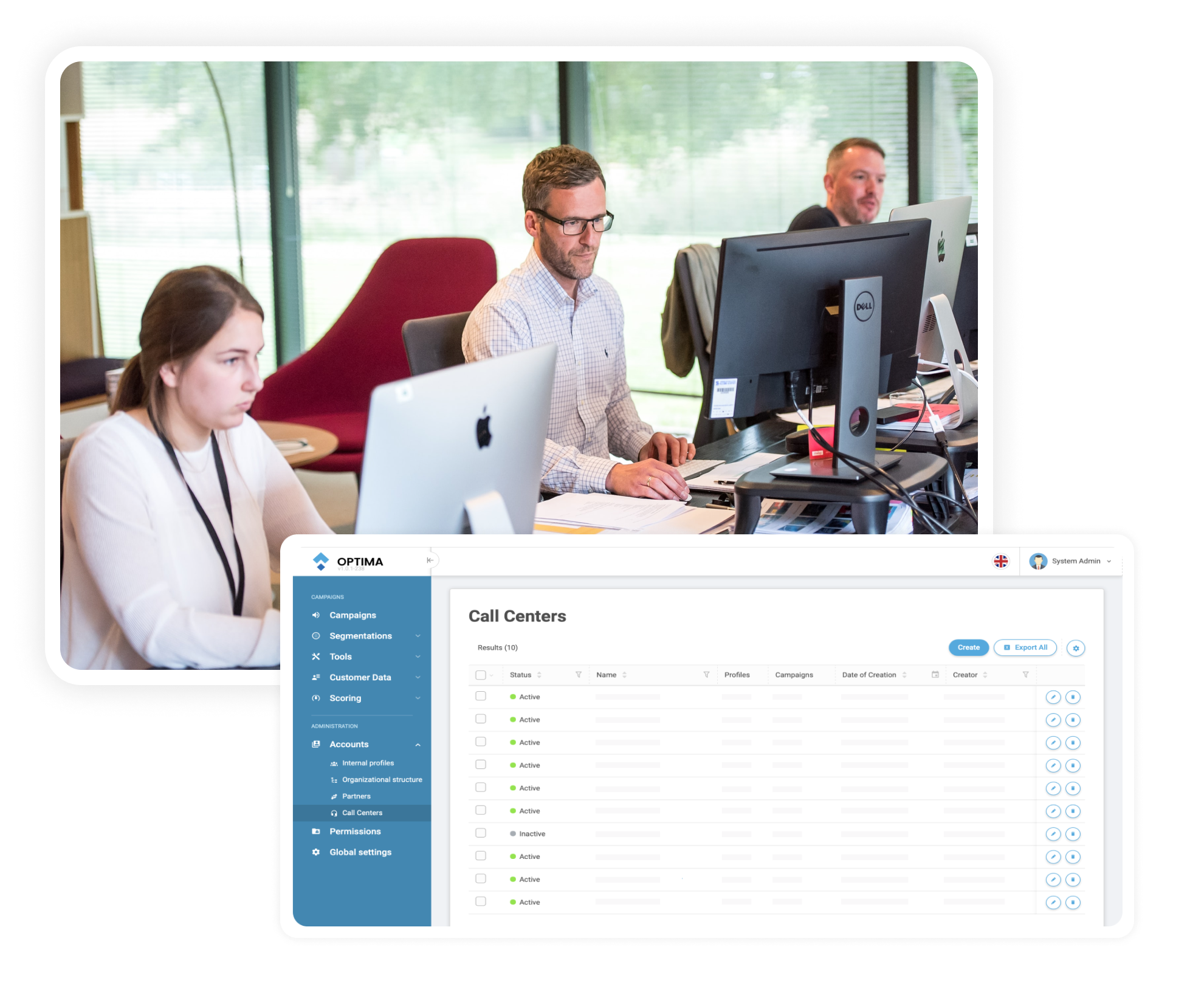 Explore more features of Optima
Turnkey platform for your business to manage communication at one place.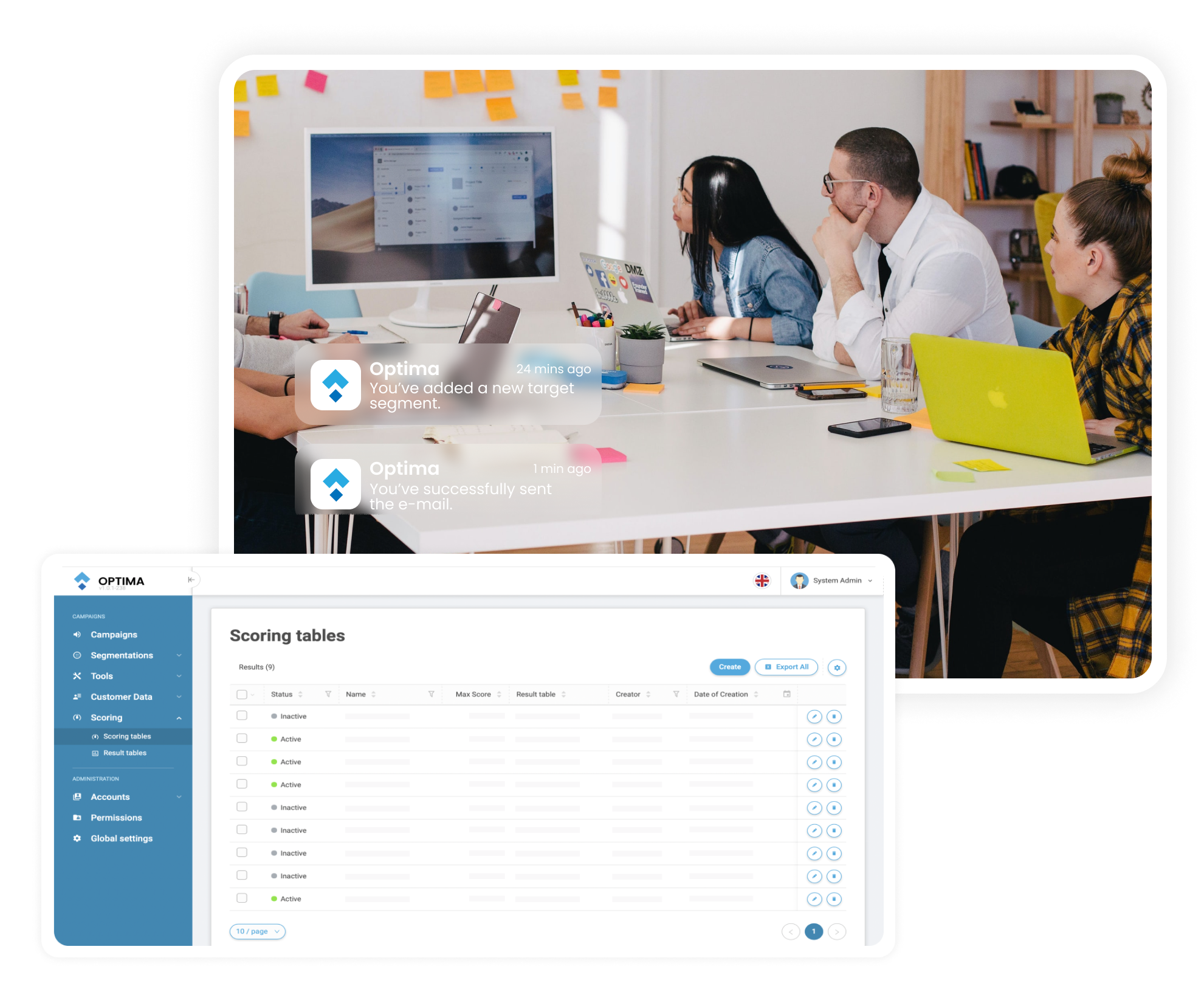 Are you ready for a better, more productive business?
Stop worrying about technology problems, focus on your business! Let us provide the development you deserve.
Related posts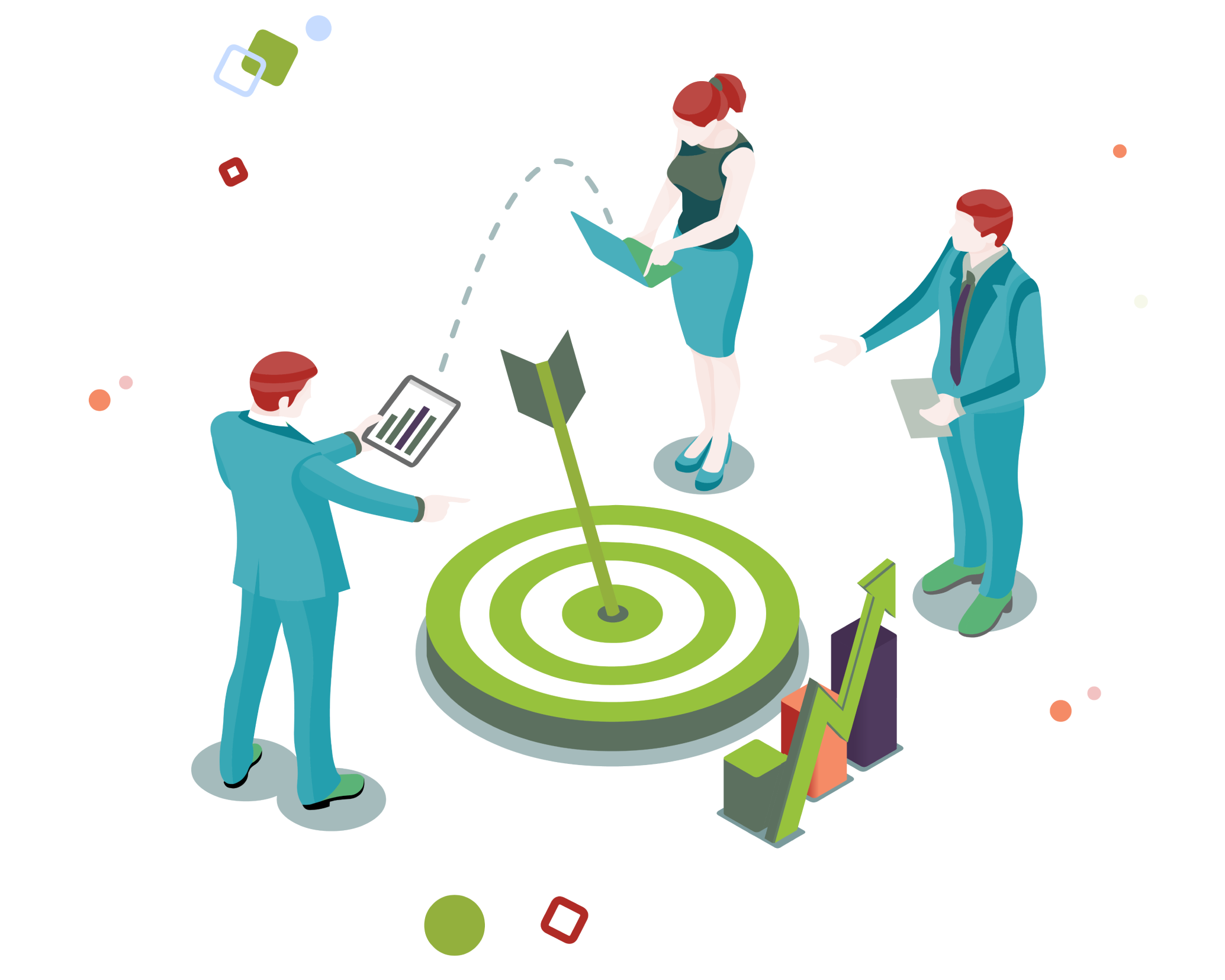 Top 5 CRM and Marketing automation trends in 2022
Today, on the 11th of January, we celebrate the International Day of Marketing. It is a perfect opportunity to highlight the importance of CRM and marketing software which is crucial in a company's life for saving time and money. Marketing is a rapidly changing business division; thanks to the rise...